EPEX SPOT proposes state of the art API solutions and services - providing scalability and high resiliency to system load, technical support from our most qualified experts and compatibility with the largest community of certified ISVs. This allows our customers to customise their trading experience and to tailor it to their needs.
ISV and API
Independent Software Vendors (ISVs) develop software solutions with a real-time interface to the EPEX SPOT trading systems through an application programming interface (API). By automating the trading process, our members can pre-define and customise their trading strategies across the entire value chain; they can trade outside of regular business hours and achieve better prices.
We have proven expertise in providing an API-friendly ecosystem to our clients, constantly optimising the functionalities of our API according to their feedback.
Each trading software developed by ISVs and available for our trading systems has been certified by EPEX SPOT. The certification process includes a series of operating tests aiming at validating the conformance with our different trading products and market specifications.
The software solutions grant different types of access to the trading systems, i.e. read only or read & write mode. A read access allows to retrieve all information from EPEX SPOT trading systems on a real-time basis (e.g. to follow-up your positions, public trades or public order book content), whereas read & write access, besides the retrieval of real-time information, also allows to send orders to the trading systems.
ISVs propose advanced trading solutions, such as:
alternative Trading GUIs (includes additional order possibilities, charts and trading indicators)
predefined parameter-based trading algorithms
programmable trading algorithms
back testing possibilities
integrated suites featuring solutions on top of Automatic Trading for:

Optimization
Logistics (balancing, nomination, dispatching)
ETRM (risk management)
The EPEX SPOT trading systems accessible via APIs are:
ETS for auction trading
M7 for continuous trading
The certification process is the same for ETS and M7:
M7 API Application Process: from interest to go-live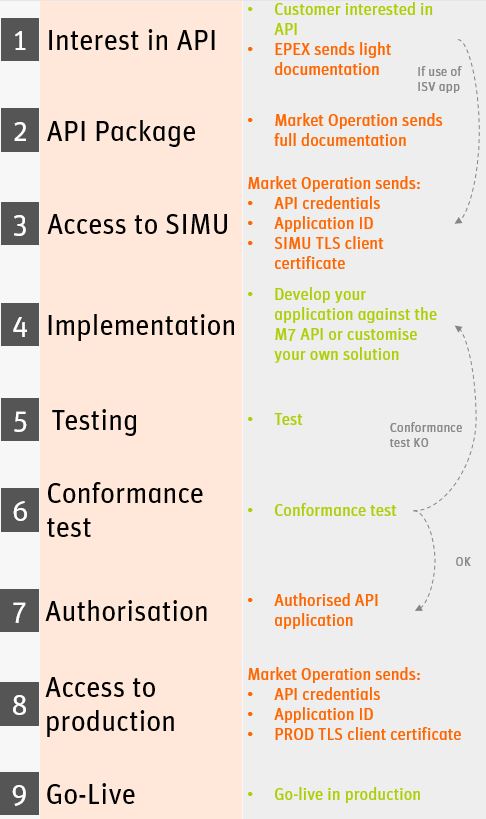 The Conformance Test process ensures that an application interacts properly with the trading system. It conditions the access to Production.
This list includes companies that have entered into an ISV agreement with EPEX SPOT. The ISV agreement applies to firms which have developed trading solutions through the API.