Our markets bring together a variety of players in the energy sector. Diverse companies trade on EPEX SPOT Day-Ahead and Intraday markets, and they all fulfil a specific role within the overall energy value chain.
Who trades on our markets?
Our members are producers, suppliers, energy-intensive consumers, aggregators, network operators and trading companies.
As third-party trading is permitted on EPEX SPOT markets, several members also trade on behalf of smaller companies. Some companies also specialize in pooling small assets, from decentralised renewable producers, demand response aggregators, or other smaller suppliers, to pool knowledge and infrastructure.
Utilities buy and sell electricity to adjust imbalances between the production of their power plants and the supply to their customers.
Municipal and regional suppliers specialise in supplying end consumers. They often provide a whole set of services to their consumers, such as power and gas supply, water and waste infrastructure, and so on.
Banks and financial service providers have an essential role in providing additional liquidity on the wholesale power market. These companies do not necessarily own power assets but are active on the market.
Trading companies provide additional liquidity to the market and have advanced expertise in the management of electricity portfolios and power trading.These companies do not own power assets.
Actors from energy-intensive industries are also involved in the wholesale market in order to purchase power at the wholesale market price.
Transmission and Distribution System Operators intervene on the spot markets in order to compensate their grid losses. In Germany, they are also in charge of marketing green electricity as a result of the feed-in tariff regulatory scheme.
Aggregators and Direct Marketers operate power plant pools or virtual power plants. They act on behalf of a group of consumers, gathering liquidity which they then bring to the wholesale market.
List of Exchange Members
Day Ahead
ID continuous
ID auction
Capacity
Location
Company

4D-Energy GmbH
DE
50HERTZ TRANSMISSION GmbH
DE
A/S Global Risk Management Ltd. Holding
DK
A2A S.p.A.
IT
ACCIONA GREEN ENERGY DEVELOPMENTS S.L.
ES
Adela Energy Limited
GB
Agder Energi Vannkraft AS
NO
Alipes Energy ApS
DK
Alpha Energy ApS
GB
Alphataraxia Europium BV
NL
ALPIQ ENERGY SE
CZ
Alpiq SA
CH
AMPC Capital Limited
GB
AMPRION GmbH
DE
ANE GmbH & Co. KG
DE
Antargaz SAS
FR
ArcelorMittal Energy SCA
LU
Ardent Energy Trading Limited
GB
Arenko Cleantech Limited
GB
Austrian Power Grid AG
AT
Axpo Deutschland GmbH
DE
Axpo Iberia SL
ES
Axpo Solutions AG
CH
Azienda Elettrica Ticinese
CH
Balance of Power Trading Ltd
GB
BASF SE
DE
BayWa r.e. Energy Trading GmbH
DE
BCM Energy SAS
FR
BKW Energie AG
CH
BLUE COPAL Ltd.
GB
BNP Paribas
GB
Bord Gais Energy Limited
GB
BP Gas Marketing Limited
GB
Brainchild Capital Investments B.V.
NL
Braunschweiger Versorgungs-AG & Co. KG
DE
Buitengaats CV
NL
Burgo Energia Srl
IT
C A Commodities A/S
GB
Castleton Commodities Merchant Cayman Ltd.
KY
Castleton Commodities Merchant Europe Sarl
CH
Cenergise Ltd
IE
Centrica Energy Limited
DK
Centrica Energy Trading A/S
DK
CEZ a.s.
CZ
CFP Trading Limited
MT
Citigroup Global Markets Ltd.
GB
Citiworks AG
DE
CKW AG
CH
Cobblestone Energy DMCC
COMCOM TRADING d.o.o.
SI
Compagnie Nationale du Rhone
FR
Conrad Energy
GB
Consorzio Toscana Energia S.p.A
IT
Constellation Generation Limited
GB
Convex Energy GmbH
DE
Copenhagen Energy Trading A/S
DK
Coryton Energy Company Ltd
GB
Currenta GmbH & Co. OHG
DE
CVA Energie S.r.l.
IT
Danske Commodities A/S
DK
Dare Power Limited
GB
DB Energie GmbH
DE
De Vrije Energie Producent B.V
NL
Dolomiti Energia Trading SpA
IT
DORTMUNDER ENERGIE-UND WASSERVERSORGUNG GMBH
DE
Drax Power Ltd
GB
DREWAG Stadtwerke Dresden GmbH
DE
Duferco Energia S.p.A.
IT
DXT Commodities SA
CH
e-PANGO
FR
E.D.Mij B.V.
NL
E.ON Energie Deutschland GmbH
DE
E.ON Energy Markets GmbH
DE
E.ON UK ENERGY MARKETS LIMITED
GB
ECOTRICITY LIMITED
GB
Edelweiss Energia S.p.A
IT
EDF Energy PLC
GB
EDF Trading Limited
GB
Edison S.p.A
IT
EDPR France Holding
FR
EDTC Limited
GB
EGO Energy S.r.l.
DE
EHA Energie-Handels-Gesellschaft mbH & Co. KG
DE
Ekologické Zdroje Energie s.r.o.
CZ
Electrabel SA
BE
ELECTRADE S.p.A.
IT
Electrawinds Distributie NV
BE
Electric Blue GmbH
DE
Electroroute Energy Trading Limited
IE
EnBW Energie Baden-Württemberg AG
DE
Endesa Generación S.A.
ES
Enea Trading Sp z o.o.
PL
Eneco Energy Trade B.V.
NL
ENEDIS SA
FR
Enel Global Trading S.p.A.
IT
enercity AG
DE
ENERGETECH TRADING DMCC
AE
Energi Danmark A/S
DK
Energia Customer Solutions NI Limited
GB
Energie AG Oberösterreich Trading GmbH
AT
Energie Steiermark Business GmbH
AT
Energie Wasser Bern
CH
ENERGIEALLIANZ Austria GmbH
AT
Energiedienst Holding AG
CH
Energieunion GmbH
DE
ENERGOVIA EOOD
DE
Energy & More Energiebroker GmbH und Co. KG
DE
Energy Financing Team (Switzerland) AG
CH
Energy Global Handel B.V.
NL
Energy Trading Company s.r.o.
SK
Energy24 Ltd
GB
Energy2market GmbH
DE
Energya VM Gestion de Energia S.L.U
ES
Energymovers BVBA
BE
ENGIE Global Markets SAS
FR
ENGIE SA
FR
ENGIE UK Markets Limited
GB
Eni S.p.A.
IT
ENIQ Sp. z. o. o.
PL
Enovos Luxembourg S.A.
LU
enspired GmbH
AT
envia Mitteldeutsche Energie AG
DE
ENZEE Commodities A/S
DK
EP Commodities, a.s.
CZ
EP UK Investments Ltd.
GB
EPG Energy Ltd
GB
Equinicity Limited
GB
Erova Energy Limited
IE
ES FOR IN SE
DE
ESB Independent Generation Trading Ltd
IE
EVN AG
AT
Evonik Operations GmbH
DE
EWE Trading GmbH
DE
EWZ
CH
Exen s.r.o
CZ
ExtraEnergie GmbH
DE
Ezpada AG
CH
F&S Energy Ltd
GB
Falck Next Energy s.r.l.
GB
Flexitricity Limited
GB
Fluid Power Ltd
GB
FMV S.A.
CH
Freepoint Commodities Europe LLP
GB
Frequenz Energy-as-a-Service
DE
FTM Commodity Services B.V.
GB
Galantix B.V.
NL
GASAG AG
DE
Gazprom Marketing & Trading Ltd.
GB
Gelsenwasser AG
DE
GEN-I d.o.o
SI
GETEC Energie GmbH
DE
GNERA Energia y Tecnologia SL
ES
Good Energy Limited
GB
Green Power Trading ApS
DK
Greenchoice B.V.
NL
GreenSpark Analytics Limited
IE
GreenYellow Vente d'Energie S.A.S.U.
FR
Groupe E AG
CH
Gunvor International B.V., Amsterdam, Geneva Branch
CH
Habitat Energy Limited
GB
Hartree Partners Power & Gas Company (UK) Limited
GB
Helios Power Trading
DK
Helios Power Trading A/S
DK
HEP d.d.
HR
Holding Slovenske Elektrarne d.o.o.
SI
Hüttenwerke Krupp Mannesmann GmbH
DE
Hydro Energi AS
NO
Hydronext SAS
FR
Iberdrola Clientes España S.A.U
ES
Ilek SAS
FR
Illumia SpA
IT
illwerke vkw AG
AT
In Commodities A/S
DK
in.power GmbH
DE
Inductive Energy a/s
DK
Inercomp GmbH
AT
Interenergo, Energetski Inzeniring, d.o.o.
SI
IWB Industrielle Werke Basel
CH
J. Aron & Company LLC
US
JAS Budapest Zrt.
HU
Jura Smart Grid GmbH & Co. KG
DE
JWM Energia Sp. z o.o.
PL
KDT KALUZNY SPOLKA JAWNA
PL
KELAG-Kärntner Elektrizitäts-AG
AT
KES Kommunale Energiedienstleistungsgesellschaft Südsachsen mbH
DE
Koch Supply & Trading Sarl
CH
Lausitz Energie Kraftwerke AG
DE
Lechwerke AG
DE
Lightfield Limited
IE
Limejump Energy Limited
GB
LINZ STROM GAS WÄRME GmbH
AT
Luminus SA
BE
Macquarie Bank Limited (London Branch)
GB
Marble Power Limited
GB
Mark-E Aktiengesellschaft
DE
MaxiCommodities, a.s.
CZ
Mercuria Energy Trading SA
CH
MET International AG
CH
MFT Energy A/S
DK
Mjolner Power ApS
DK
MND a.s.
CZ
MVM Partner ZRt
HU
MVV Trading GmbH
DE
N-ERGIE AG
DE
N.V. HVC
NL
National Grid Interconnector Holdings Limited
GB
Naturgy Limited
IE
Next Kraftwerke GmbH
DE
Nidhog ApS
DK
Nitor Energy A/S
DK
Nordic Energy House ApS
DK
Norlys Energy Trading A/S
DK
Northpool BV
NL
Nvalue AG
CH
ÖBB-Infrastruktur Aktiengesellschaft
AT
Oberhessische Versorgungsbetriebe AG
DE
Ohm Energie SAS
FR
OMPEX AG
CH
Optimax Energy GmbH
DE
Orsted Bioenergy & Thermal Power A/S
DE
Orsted Renewable Supply 2 Limited
IE
Orsted Salg & Service A/S
DK
Outlook Energy Ltd.
GB
P3P Energy Supply Limited
GB
Petroineos Trading Limited
GB
PETROL d.d., Ljubljana
SI
Pfalzwerke AG
DE
PGNIG SA
PL
PGNIG Supply & Trading GmbH
DE
Polenergia Obrot SA
PL
Ponte Energy Partners GmbH
DE
Power Trading Management A/S
DK
POWERMART ApS
DK
Prazska Energetika
CZ
Prepaypower Limited
IE
Primeo Energie AG
CH
PRIOGEN HOLDING BV
NL
Progress Energy Services BVBA
BE
pure.energy GmbH
Quadra Energy GmbH
DE
Quantum GmbH
DE
Quark Energy Trading Limited
GB
RABOT Energy GmbH
DE
REPOWER AG
CH
RESPECT ENERGY S.A.
PL
REstore France SAS
FR
REWAG Regensburger Energie- und Wasserversorgung
DE
RheinEnergie Trading GmbH
DE
RISQ Energy Limited
GB
RTE Réseau de transport d'électricité
FR
RWE Supply & Trading GmbH
DE
SachsenEnergie AG
DE
Salzburg AG für Energie, Verkehr und Telekommunikation
AT
SB Trading Company (SBTC) Ltd
GB
Schweizerische Bundesbahnen SBB
CH
Scottish Power Energy Management Ltd
GB
SE Energy Trading GmbH
DE
Second Foundation A.S.
DE
Services Industriels de Genève
CH
SEtrade GmbH
DE
Sev.en Commodities AG
CZ
Shell Energy Europe Limited
GB
Slovenske elektrarne, a.s.
SK
Smart Grid Energy SAS
FR
Smart@energy
BE
Smartest Energy Ltd
GB
SMS Energy Service Limited
GB
Société Générale S.A.
FR
Société Valmy Défense 38
FR
Solvay Energy Services SAS
FR
Sorgenia Trading S.p.A
IT
SSE Energy Supply Ltd
GB
Stadtwerke Duisburg Energiehandel GmbH
DE
Stadtwerke Düsseldorf AG
DE
Stadtwerke Flensburg GmbH
DE
Stadtwerke Gießen AG
DE
Stadtwerke Heidenheim Wärmeservice GmbH
DE
Stadtwerke Karlsruhe GmbH
DE
Stadtwerke Leipzig GmbH
DE
Stadtwerke München GmbH
DE
Stadtwerke Viernheim GmbH
DE
Statkraft Markets GmbH
DE
STEAG GmbH
DE
Südwestdeutsche Stromhandels GmbH
DE
Sumitomo Corporation Global Commodities Limited
GB
Sunnic Lighthouse GmbH
DE
Swenex - swiss energy exchange Ltd
CH
Swissgrid AG
CH
Syneco Trading GmbH
DE
TEAG Thüringer Energie AG
DE
Technische Werke Ludwigshafen am Rhein AG
DE
Tesla Motors Limited
GB
thyssenkrupp Steel Europe AG
DE
TIWAG - Tiroler Wasserkraft AG
AT
TotalEnergies Electricité et Gaz France SA
FR
TotalEnergies Gas & Power Limited
GB
TotalEnergies Power & Gas Belgium SA
BE
Trafigura Trading (Europe) sarl
CH
Trailstone Renewables GmbH
DE
TransnetBW GmbH
DE
Trianel GmbH
DE
Trimet Aluminium SE
DE
Twig Energy ApS
DE
UEM
FR
UK Power Reserve Limited
GB
Unigy GmbH
DE
Uniper Global Commodities SE
DE
Vattenfall Energy Trading GmbH
DE
VERBUND Energy4Business GmbH
AT
Virtual Global Trading AG
CH
Virtual-Power B.V.
BE
Vitol S. A.
CH
Voltalis SA
FR
Volue Market Services AS
NO
VSE Aktiengesellschaft
DE
VW Kraftwerk GmbH
DE
WEB Windenergie AG
AT
Wien Energie GmbH
AT
Wind Energy Trading WET AG
CH
WSW Energie & Wasser AG
DE
XENON CAPITAL MARKETS LIMITED
GB
List of ECC Clearing members
Membership profile
The membership of EPEX SPOT is highly diverse. Utilities and Energy Trading Companies represent more than half of the Exchange's members. Other significant players at the Exchange include municipal and regional suppliers, aggregators, commercial consumers, banks and financial service providers and Transmission System Operators.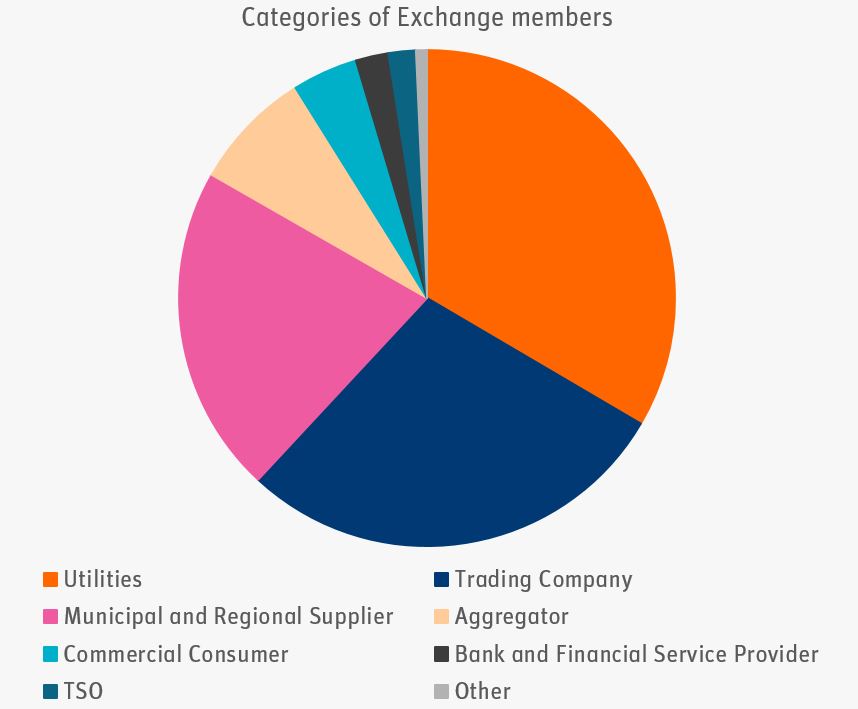 EPEX SPOT members are also geographically spread out, coming from over 20 different countries. About 27% are from Germany, 14% are from the United Kingdom and 10% of our members are based in Switzerland. Other well-represented countries include: France, the Netherlands, Italy, Austria and the Czech Republic.