Registering as an exchange member with EPEX SPOT provides market access to the largest electricity markets in Europe. We operate short-term electricity markets in Central Western Europe, Great Britain and the Nordics.
What is a Power Spot Exchange?
Power Spot Exchanges operate marketplaces where Exchange members can connect and submit orders for buying and/or selling power, which is registered in an order book. These orders reflect supply and demand for a specific market area at a certain moment in time. Based on the order book, Power Exchanges calculate a market price.
Markets operated by EPEX SPOT are optional and accessible to all participants satisfying admission requirements. As opposed to direct transactions, called Over-the-Counter (OTC) trades, the organized marketplace operated by an Exchange has various advantages: pooling of liquidity, the emergence of a robust reference price, payment and delivery security. The fair and orderly management of our markets is ensured by the application of market rules and anonymity of transactions, under the supervision of our independent Market Surveillance Office.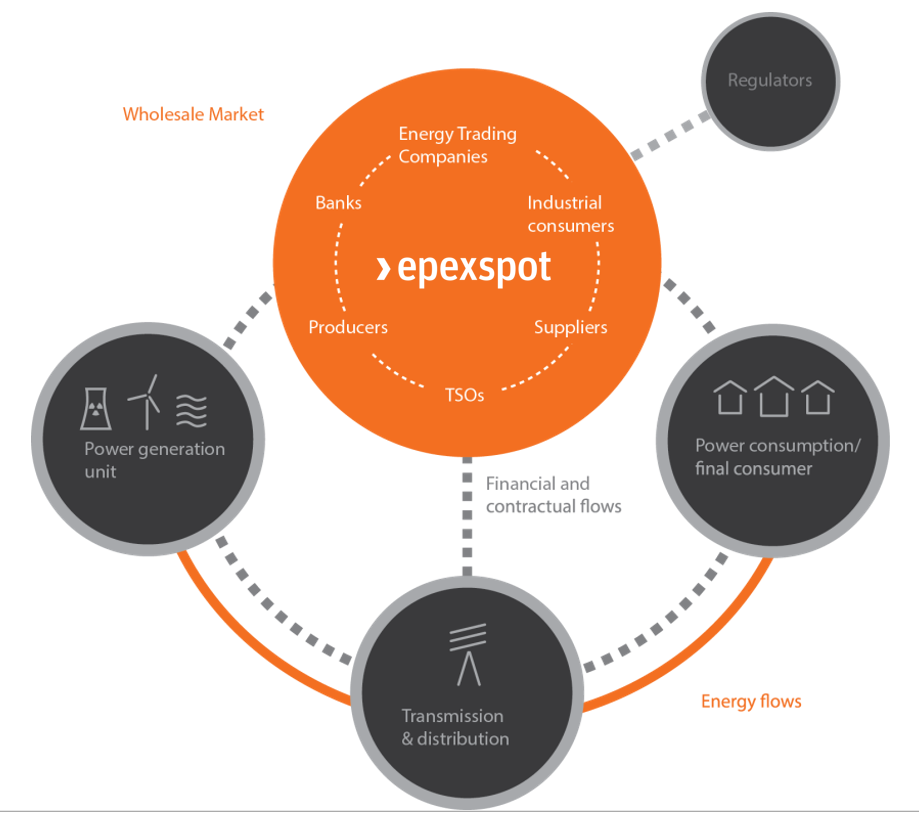 Why trade at EPEX SPOT?
Your power trading One-Stop-Shop
We operate short-term electricity markets with 24/7 market operation services in CWE, Great Britain, Nordics and Poland. In 2021, our community of over 300 companies has traded 621 TWh* of electricity representing roughly 30% of the European electricity consumption (source: eurostat).
From Day-Ahead to Intraday trading, After-Market, Capacity certificates, Guarantees of Origin or Local Flexibility products – we are your partner in trading – boosting innovation and providing a truly pan-European offer across the entire trading value chain.
Innovation
All products and innovations at EPEX SPOT are developed in close cooperation with our customers. The Exchange Council represents our trading community and makes sure all products and innovations are discussed and decided upon jointly with the market.
Member First
With 24/7 market operations call support, geographical proximity, data & reporting services - we are at your service to ensure the most performant and complete trading experience.
Secured Markets
Trade with confidence at each step of the process: starting from key safety settings and trade cancellation possibilities on our trading systems; to proven default risk management with our trusted Clearing House, ECC. Our Market Surveillance Office also ensures the markets are running in a fair and orderly manner with their proven expertise.

For more information on our trading products & services, visit our page here.
*Please note that volumes are calculated by using the common industry standard in electricity and exchange business: Press Release Press Release Page 2 © EPEX SPOT SE For auction trading, the one-sided Market Clearing Volume is listed. For continuous trading, the aggregated sell & buy volume is divided by 2.
Membership Types
Direct Membership

A Direct Trading Member is a Member authorised to trade directly on the Exchange. With this membership, the Member will have two options for their Clearing Membership: Non-Clearing Member (NCM) or Direct Clearing Participant (DCP) setup.
Indirect Membership
An Indirect Trading Member is a Member authorised to trade via a Direct Trading Member ("Professional Certified Trader (PCT)") appointed by it. In such case, trading shall exclusively be carried out by the appointed PCT for the account of the Indirect Trading Member.

Passport Membership / Group Membership
This offer is tailor-made for companies who want to join the Exchange to trade directly on the Exchange, but do not wish to set up their own clearing infrastructure. These companies will be granted a Passport or Group Membership and will partner with another Exchange member of their choice who will support their trading activity via its own clearing infrastructure.
For more information on this membership type, click here.
Clearing & Settlement
All EPEX SPOT products are cleared and settled by European Commodity Clearing AG (ECC). ECC is the leading clearing house for energy and commodity products in Europe, guaranteeing the physical and financial settlement of transactions. In its role as a central counterparty ECC steps between the buyer and seller and assumes the counterparty risk. In the event of a default of a trading member, ECC guarantees payment and delivery of the transactions.
The clearing process of ECC relies on an infrastructure of international banks operating as clearing members. Companies that wish to trade on EPEX SPOT have to be admitted as Non-Clearing Members and/or Clearing Members by ECC. The list of clearing members on EPEX SPOT is available here. ECC is part of EEX Group.
ECC also offers a Direct Clearing Participant (DCP) membership option to EPEX SPOT members. DCP Clearing Members are Clearing Members benefiting from a clearing license at ECC exclusively entitled to clear own spot market transactions.
To access the website of ECC, click here.
Training & Certification
Exchange Traders must be professionally qualified to trade on EPEX SPOT markets. Certification is obtained after successful completion of the EPEX SPOT exam. Training as well as the EPEX SPOT exam can be taken any place and at any time via our e-Learning platform, which you can access here. Please note that training sessions and the exam for EPEX SPOT power markets are only available to Exchange Members or companies currently undergoing the admission process. You can register for training courses and the exam via our EEX Group Webshop.
Become a member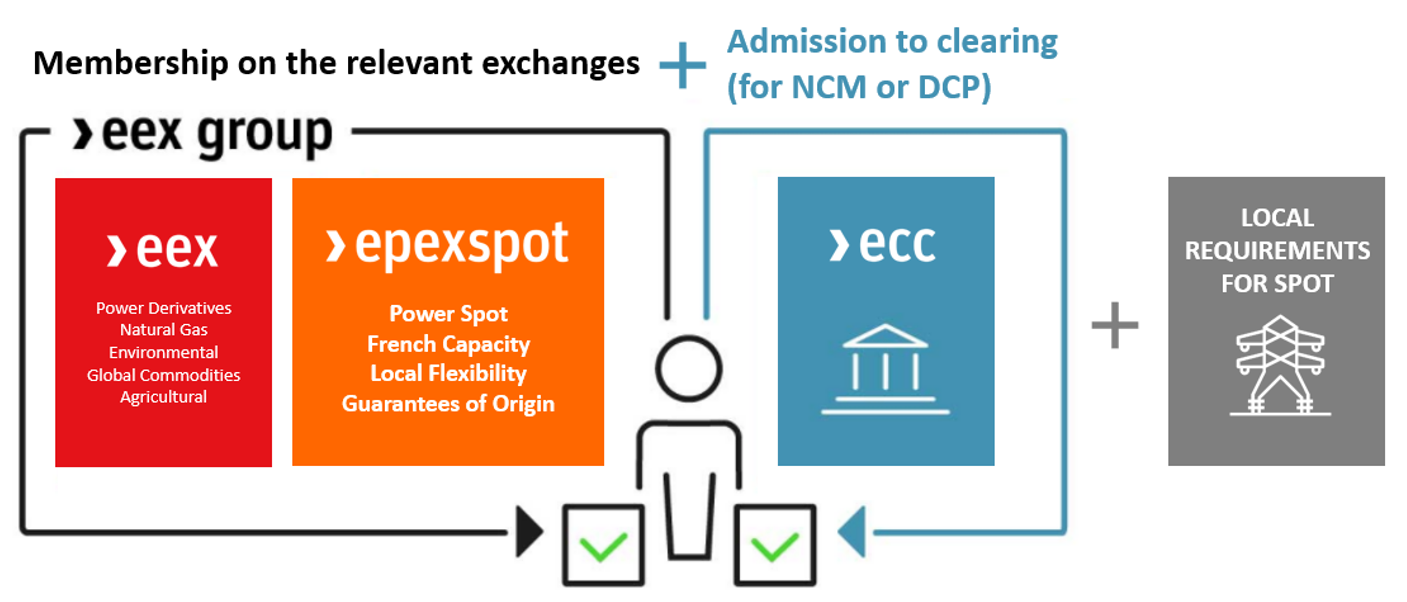 1. Contact us to find the membership that suits you best
     Email: sales@epexspot.com, Tel: +33 1 73 03 62 62
As part of EEX Group, we have the possibility to meet your broad or more specific range of needs. Our Sales team will be able to support you in determining the most suitable and competitive offer for you. Please note that only companies can become members of EPEX SPOT.
You can also start by filling up this short questionnaire, to find out which offer is best suited for you. 

2. Find a Clearing Bank, sign a Direct Clearing Agreement with ECC or sign a Tripartite Agreement with a Market Access Provider

To trade at EPEX SPOT, you will need to choose one of the following options:
1.Find a clearing bank to register for the Non-Clearing Member (NCM) membership type
2.Sign a Settlement Bank Agreement directly with ECC to become a Direct Clearing Participant (DCP)
3.Or, sign a Passport/Group Membership Tripartite Agreement with a Market Access Provider to gain direct access to EPEX SPOT without a clearing bank and ECC registration

3. Become a Balance Responsible Party
Register a BRP with the respective Transmission System Operator (TSO) in each market that you wish to be active on.
4. Follow the EPEX SPOT & ECC admission process and
pass the Trader's Exam
Submit the relevant KYC and admission documents depending on your desired setup to EPEX SPOT & ECC.
Once the registration process is complete, you will have to designate the persons who will be admitted as traders. Every person who trades on EPEX SPOT on behalf of their company must pass the trader's exam.

5. Start trading
Congratulations! You're ready to trade.
We also offer our new trading members the opportunity to advertise their business and celebrate this key milestone in the form of a welcome post on our corporate social media accounts (LinkedIn & Twitter).

Which offer is best suited for you?
Are you interested in accessing Europe's most liquid power markets? Fill in this short questionnaire to identify your needs. After submitting your contact information, a member of our team will be in touch with you shortly.