Registering as an exchange member with EPEX SPOT provides market access to the largest electricity markets in Europe. We operate short-term electricity markets in Central Western Europe, Great Britain, Switzerland, the Nordics and Poland.
A diverse product portfolio
Besides offering Day-Ahead and Intraday trading across twelve European countries, EPEX SPOT also operates the French capacity auction and local flexibility markets. EPEX SPOT also currently prepares market launches in the Baltic region. To find out more about our products and services click here.
Our members trade both on their own account, and on behalf of other companies that can benefit from their expertise and infrastructure. To learn more about what types of companies trade on EPEX SPOT and to access the full list of our trading members, please click here.
Admission process
Do you wish to have access to Europe's most liquid power markets and trade electricity in a fair, secure and transparent manner? Here is how it works.
Before trading on EPEX SPOT's markets, your company needs to register as a member of the Exchange. Only companies can become members of EPEX SPOT.
Once the registration process is completed, the company has to designate individual staff members who shall be admitted as traders. Every person who trades on EPEX SPOT on behalf of their company has to pass a traders exam first.
There is a single admission process for all market segments of EPEX SPOT. Applicants therefore have a unique contact at EPEX SPOT's Sales Department to guide them through the different steps of the admission process, as shown in the graphic below.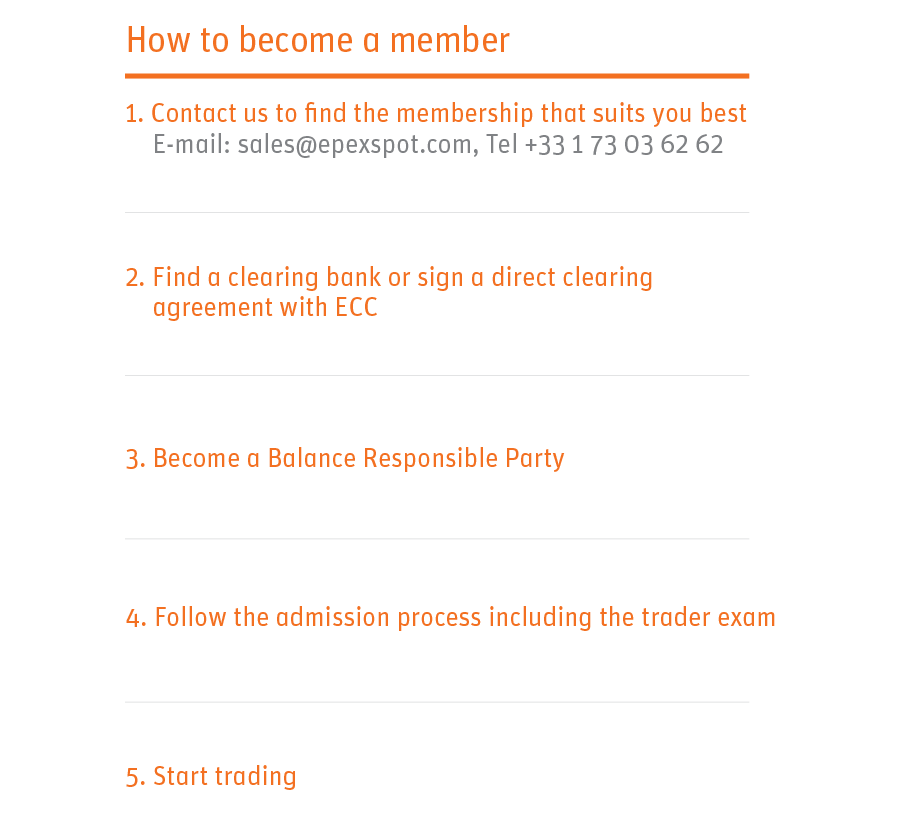 Training & Certification
Exchange Traders must be professionally qualified to trade on EPEX SPOT markets. Certification is obtained after successful completion of the EPEX SPOT exam. Training as well as the EPEX SPOT exam can be taken any place and at any time via our e-Learning platform, which you can access here. Please note that training sessions and the exam for EPEX SPOT power markets are only available to Exchange Members or companies currently undergoing the admission process. You can register for training courses and the exam via our EEX Group Webshop.
Which offer is best suited for you?
Are you interested in accessing Europe's most liquid power markets? Fill in this short questionnaire to identify your needs. After submitting your contact information a member of our team will be in touch with you shortly.