Strongest half-year volumes ever on
 European Power Exchange EPEX SPOT
Paris / Leipzig / Bern / Vienna, 20 July 2015. The trend towards short-term power trading is unbroken: In the first half year of 2015, a total volume of 216.6 TWh was traded on EPEX SPOT's Day-Ahead and Intraday power markets. This is a 16.1% increase compared to the previous year's volumes (186.6 TWh) and the best half year ever recorded on EPEX SPOT, with every market segment contributing to the growth. In addition, 20.8 TWh were traded on APX markets since 4 May 2015, part of EPEX SPOT since that day.
Day-Ahead markets
From January to June 2015, power trading on the Day-Ahead markets on EPEX SPOT accounted for a total of 195,882,116 MWh (January to June 2014: 172,105,786 MWh). All markets in Germany, France, Austria and Switzerland contributed to this growth. The French power market stood out against these overall strong results with a year-on-year increase of 58.3% on the Day-Ahead, due to the shift of trading volumes towards the free market.
Intraday markets
On the EPEX SPOT Intraday markets, a total volume of 20,784,446 MWh was traded in the first six month of 2015 (January to June 2014: 14,519,046 MWh). This growth of 43.2% is in line with the development of Intraday market volumes over the past few years. Fueled by the German/Austrian Intraday market, on which volumes increased by 48%, Intraday trading has become one of the main pillars for trading of renewable energy sources across Europe. Trading in 15-minute contracts increased significantly through the launch of the 15-minute call auction on the German Intraday market. With the latest reduction of lead-time to 30 minutes locally and to 60 minutes across borders and in Switzerland, Intraday markets are likely to become even more attractive for power traders.
 
Please find further details on the volumes and prices below: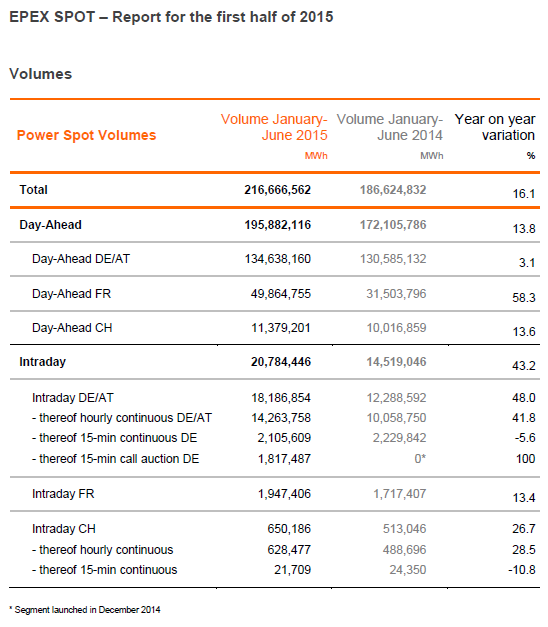 - ENDS
The European Power Exchange EPEX SPOT SE operates the short-term electricity markets for Germany, France, Austria and Switzerland. EPEX SPOT owns 100% of APX Group (including Belpex), operator of the short-term electricity markets for the Netherlands, the United Kingdom and Belgium. Striving for the creation of a European single market for electricity, EPEX SPOT shares its expertise with partners across the continent and beyond. EPEX SPOT is a European company (Societas Europaea) in corporate structure and staff, based in Paris with offices in Amsterdam, Bern, Brussels, Leipzig, London and Vienna. 275 companies trade over 450 TWh of electricity on EPEX SPOT and APX every year – one third of its countries' electricity consumption. EPEX SPOT is held by EEX Group, part of Deutsche Börse, and European electricity transmission system operators. For more information: www.epexspot.com