The French Secretary of State for European Affairs Amélie de Montchalin visits EPEX SPOT
Paris, 29 October 2019. The French Secretary of State for European Affairs, Amélie de Montchalin, visited the headquarters of the European Power Exchange in Paris. The visit took place on 29 October and in the presence of François Brottes, Chairman of the Board of RTE (Réseau de transport d'électricité).

Ralph Danielski, Chief Executive Officer of EPEX SPOT, explained how the power exchange forms the prices on the European wholesale market and underlined the role of markets to succeed the energy transition.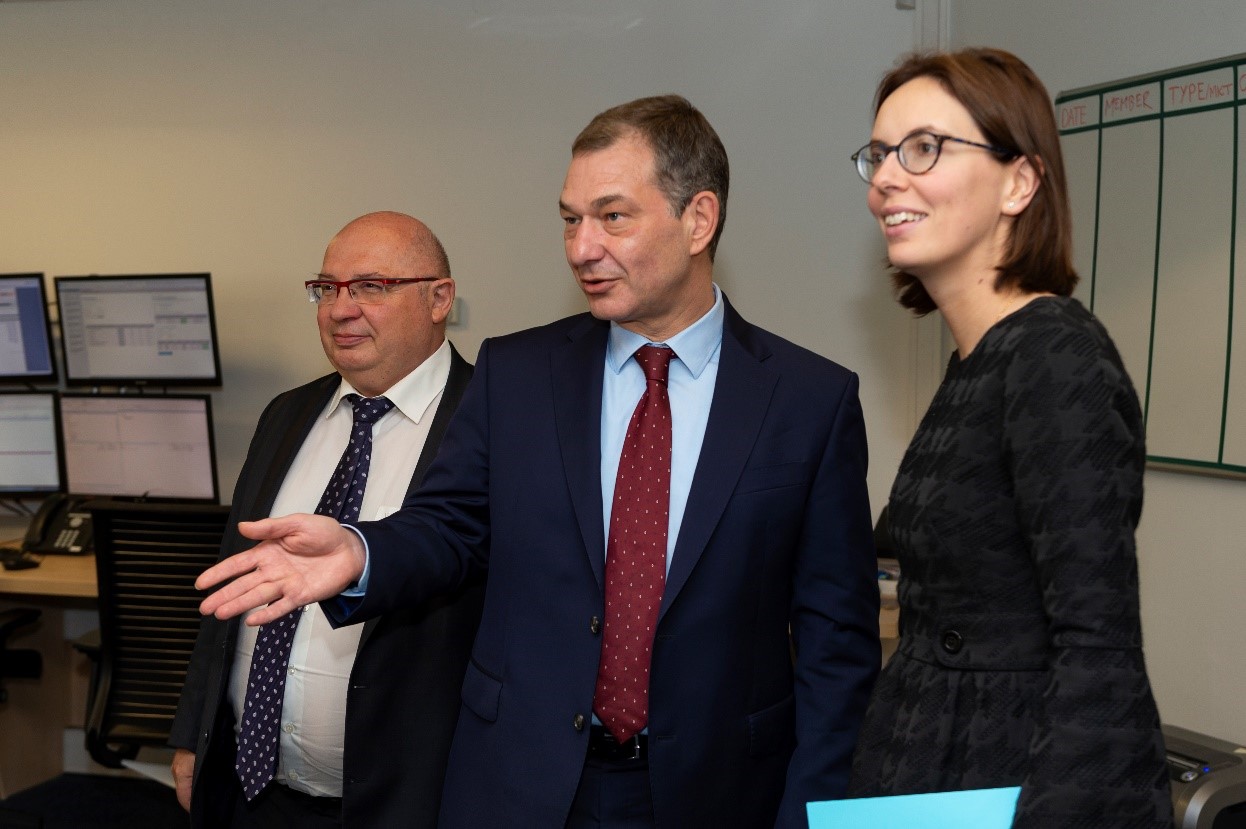 François Brottes recalled the success of Europe's energy sector. "The electricity grid connected to the market makes it possible to secure the electricity supply of the regions, to promote the development of renewable energies and to provide Europeans with electricity at the lowest cost."
Following the Day-Ahead fixing for European power markets from the Market Operations room, Amélie de Montchalin was able to experience a concrete feature of the Internal Energy Market in real-time.
"Renewable Energies are a main pillar in the fight against climate change. Only an organized, fair and orderly short-term market can integrate this electricity from renewables into the system" said Ralph Danielski. "Our liquid Day-Ahead and Intraday markets enable the energy transition." Covering already eight European countries, EPEX SPOT will expand its activities to the Nordic region in 2020.
The European final consumer benefits from the growing integration of electricity markets and the increase in cross-border flows between countries. EPEX SPOT plays a central role in this integration through European Market Coupling.
-Ends
The European Power Exchange EPEX SPOT SE and its affiliates operate physical short-term electricity markets in Central Western Europe and the United Kingdom. As part of EEX Group, a group of companies serving international commodity markets, EPEX SPOT is committed to the creation of a pan-European power market. In the first half of 2019, 300 TWh were traded on EPEX SPOT markets. In 2018, its 289 members traded 567 TWh – a third of the domestic consumption in the eight countries covered. 49% of its equity is held by HGRT, a holding of transmission system operators. For more information, please visit www.epexspot.com.
In 2019, EPEX SPOT celebrates 10 years of power, the company's tenth anniversary. More information about our history, along with a thank you message from our staff, is available here: https://www.epexspot.com/en/company-info/History_of_EPEX_SPOT_new