EPEX SPOT and APX power trading results of November 2015
Amsterdam / Bern / Brussels / Leipzig / London / Paris / Vienna, 1 December 2015. In November 2015, a total volume of 51.3 TWh was traded on EPEX SPOT and APX Day-Ahead and Intraday power markets (November 2014: 41.4 TWh). With 24% growth year-on-year, November 2015 was the strongest month in the history of the power exchanges in Central Western Europe and the UK.
All-time daily record was reached on 19 November with a total of 2,003,904 MWh traded across the markets.
Day-Ahead markets
In November 2015, power trading on the Day-Ahead markets on EPEX SPOT (including APX markets) accounted for a total of 46,347,393 MWh (November 2014: 37,252,644 MWh).
All-time high monthly volumes were reached on the French and UK Day-Ahead markets. The French Day-Ahead market experienced already the second consecutive all-time monthly high with 11,160,882 MWh traded while 4,407,644 MWh was traded on the APX Power UK Day-Ahead market.
Prices in Central Western Europe, connected within the Multiregional Coupling, converged 22% of the time (November 2014: 26%).
Intraday markets
On the EPEX SPOT Intraday markets (including APX), a total volume of 4,965,282 MWh was traded in November 2015 (November 2014: 4,146,054 MWh).
In November, cross-border trades represented 12% of the total continuous Intraday volume in Germany, France, Austria and Switzerland. 15-minute contracts represented 10% of the volume traded on the German, Austrian and Swiss continuous Intraday markets.
New members
In November, EPEX SPOT welcomed new members to its markets. Multiutility S.P.A. joined the German/Austrian, French and Swiss Day-Ahead auctions. Board Gais Energy Ltd became a new member of the exchange by joining the APX Power UK market. CEZ a.s. extended their existing EPEX SPOT membership to the French Intraday market.

Please find further details on the volumes and prices below: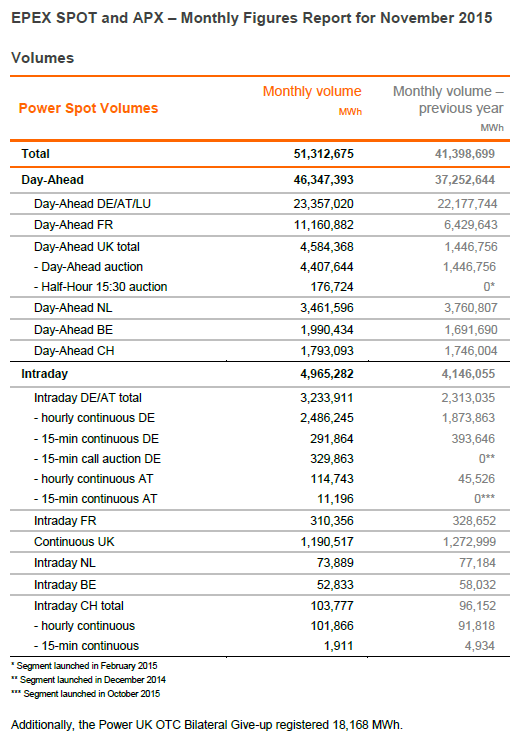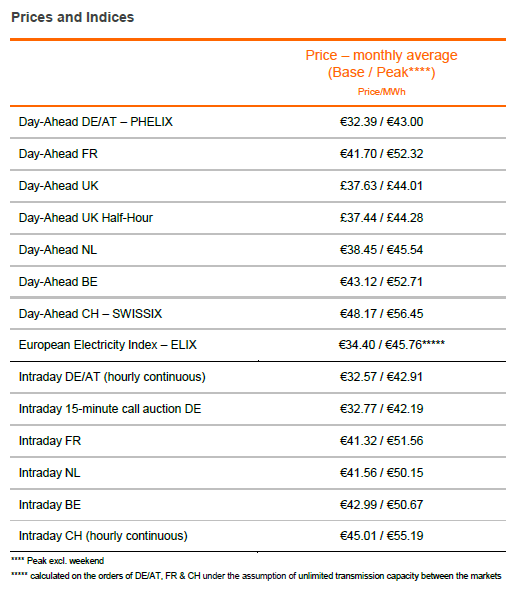 - ENDS

The European Power Exchange EPEX SPOT SE and its affiliates APX and Belpex operate organised short-term electricity markets for Germany, France, United Kingdom, the Netherlands, Belgium, Austria, Switzerland and Luxembourg; markets representing 50% of European electricity consumption. Striving for the well-functioning European single market for electricity, EPEX SPOT shares its expertise with partners across the continent and beyond. EPEX SPOT is a European company (Societas Europaea) in corporate structure and staff, based in Paris with offices or affiliates in Amsterdam, Bern, Brussels, Leipzig, London and Vienna. More than 280 companies trade annually over 500 TWh of electricity on EPEX SPOT and its affiliates. EPEX SPOT is held by EEX Group, part of Deutsche Börse, and HGRT, a holding of European electricity transmission system operators.
For more information, please visit www.epexspot.com and www.apxgroup.com